World Breastfeeding Week | Alaska Mommas
The first week of August is celebrated around the world as World Breastfeeding Week, and the United States Breastfeeding Committee has declared the month of August National Breastfeeding Month. Over the course of the last week I have been approached one question about these campaigns. Why do we need a breastfeeding month or week anyway? Haven't we made a lot of progress already? Good questions. At first look it may seam like everything is going well in the world of motherhood in regards to nursing. I can validate that the amount of support I received grew immensely between my first child and second child. However, I still hear so many stories of difficulty among mommy groups and the local La Leche League. It isn't always easy to nurse a baby, and when the support isn't there to help you it can be frustrating. When you're struggling for a good latch and feel pressured to wear a cover at the park, it can make achieving that latch even more difficult. So we have a World Breastfeeding Week and a National Breastfeeding Month, because moms just need support.
I had the honor of celebrating Breastfeeding Week with a group of Alaskan moms, who are all at different stages of breastfeeding their babies. There were first time moms and veteran moms, moms of singletons and moms of twins, moms of infants and moms of toddlers, all feeding their babies and sharing support. Here are their stories:
Ezekiel was born almost 4 weeks early due to Cholestasis (ICP) and wouldn't latch on to my breast. It made me so worried that we would never be able to breastfeed, something I've always dreamed about doing. He eventually latched but only with a nipple shield. It made me feel like a failure. We kept going because seeing how much Ezekiel had grown and how happy his milkies made him made me happy and made breastfeeding worth it. One day I forgot the nipple shield at home, and he finally latched without it. Ever since then we haven't used it and he's done amazing with breastfeeding. My favorite thing about nursing Ezekiel is watching him look at me and smile. Even though he usually unlatches and it takes forever to feed him, it makes my heart melt to see him smiling up at me. ~Amanda
---
Lilyana is 4.5 months old and was only 5 lbs 3oz at birth. Our breastfeeding journey has been difficult with many complications. Lilyana was very weak in the beginning and would fall asleep while nursing. We had to struggle to get her to eat enough as nursing is more work than a bottle. I've had mastitis twice from her being too tired to empty my breast. At 4 months Lilyana became dehydrated and we began supplementing with my pumped milk in the freezer. Lilyana refused to take it and we learned about high lipase. My friend, Amanda, has been amazing and given us 100's of ounces of breast milk to supplement with. We are still trying to up my supply but am feeling like our breastfeeding journey is coming to an end. It has been heart breaking for me. My husband and friend have been so supportive and understanding. My favorite part about breastfeeding is the bond. Looking down and seeing myself in my daughter's eyes. The picture you took brings me to tears as that is exactly what I will miss the most when this is all over. ~ Michaella
---
My twin boys are six weeks old. It has been very challenging being able to breastfeed both of them. My older twin, Lincoln, had a defect and was not able to latch or have a strong reflex when he was born. He was bottle fed until he had a procedure done to correct it and now is able to breastfeed. My pregnancy with them was very challenging, and their delivery left me with a fractured spine that I'm still waiting to have surgery for. Going to see a lactation consultant at the maternity center to help with feeding advice helped us a lot, even though I breastfed my older two boys as well. My favorite thing about still being able to breastfeed them is the bonding time we have together and watching each baby develop and grow in their own way. Having multiples has been an incredible experience we were definitely not prepared for. Being able to meet with groups of other moms has been the biggest blessing for us with all of their parenting experiences to learn from. ~ Anna
---
When Shane was a newborn he had tummy troubles. It was awful seeing him in pain after nursing; even after eliminating some things from my diet, the main cause remained a mystery to me. I kept nursing anyways. Sometime after about 6 months the fussiness and digestive problems diminished. Breastfeeding became much more pleasant and satisfying for both of us. Shane is 20 months now as we continue to breastfeed. My favorite thing about breastfeeding him is the bond, the instant comfort it provides, and the snuggles, especially during this busy toddler stage. My first son stopped nursing around 9 months, so making it to 20 months this time has been a very different experience and is utterly sweet! One of Shane's early words was "nurse." I've fallen in love with the way he asks "nurse?" in his tiny little voice. It melts my heart and makes it so hard to say no, let alone think of weaning! ~ Emily
---
Emily is 9 months and not so much any challenges for the two of us. However, I have had 3 children in 4 years so I have been breastfeeding non stop. At one time I was breastfeeding 2 babies. I absolutely love nursing her because of how excited she gets when she knows it's time!!! ~ Angela
---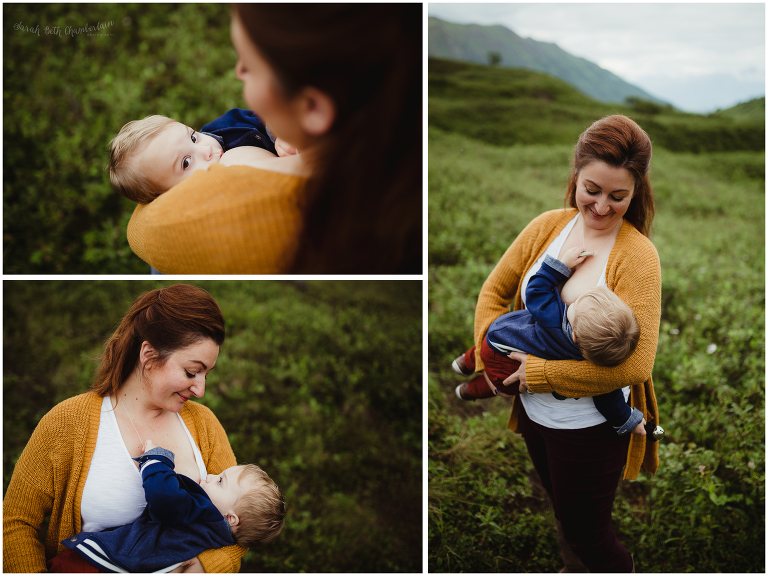 I've had a very easy time Breastfeeding Reid the past 16+ months! We never had any medical issues and he learned to latch comfortably right from the start. I DESPISE pumping so I didn't do it much and was never away from him long enough for him to need someone else to bottle feed him. I think he had formula 3-4 times, but other than that he's been 100% boobie baby. I love the cuddle time and the quiet moments where I can sit and kiss and smell him. It's especially meaningful now that he's super mobile and into all his toddler shenanigans. I don't want to stop! Reid didn't get his first teeth until 10 months. He still only has 6 teeth and no molars so he doesn't eat that much real food. I'm feeling guilty wanting to wean so we can have another crack at fertility treatments when he is getting a lot of his nutritional needs from me still. I'm also kinda lazy so it's easier to nurse him than fight with him to eat something! I pull down my top and dinner is served! Anytime, anyplace! ~ Ashley
---
Kyla is 10 months old. She has always taken to the breast easily. Early on we did have some issues with her latch because my let down was really strong and she would drown herself while trying to eat. Luckily after a couple months my let down got a little lighter and things got easier. I have considered myself lucky in the fact that both of my kids were naturals at breast-feeding and they LOVE to eat. My favorite part of breastfeeding is that special quiet time with your little one that goes by way too fast! ~ Jillian
---
Etta and Everdeen are 4-months-old. The m
ost challenging thing is getting them on the same feeding schedule. We o
vercame it by staying cool, calm, and collect, knowing they will get the hang of it. I just have to stay strong and stick with it. My favorite part is just the over all feeling of comfort and love feeding gives me and the girls. ~ Candice
---
This shoot was so special to me. My own little one is weaning, and it hasn't been easy to always say no to those gentle toddler cuddles. While I never expected to be nursing a toddler, my first child having self weaned at 11-months, it's been a really great blessing in our hectic life with two kids. I wouldn't change the path for anything. Getting together with these women showed me that it's really okay to hold onto this stage. It's okay to not let go until they're ready. It's also okay to not give up the midday feed just yet, so we don't drop nap time too soon. Amen, amen, amen to quiet time! Thank you ladies, for celebrating World Breastfeeding Week with me and sharing this beautiful bond. No matter how long your baby nurses or how many hurdles you jump over for them, you are doing an amazing job as their mothers.
Sarah Beth Chamberlain
Baby Photographer | Eagle River, Alaska