Maternity Photos | Mead Family Portraits
The Mead family was selected to capture maternity photos with me, and they were eager to participate in a promotional video showcasing my family and maternity sessions. When I ran the model call for this event, there were 13 beautiful mommies with sweet families who had applied. It was such a tough decision, but every time I went through the applicant photos, little Dominic's smile continued to grab my attention. I have a huge soft spot for wild spirits and spunky kids. After all, I'm raising a couple myself. I could just tell that they were a very warm family, and I am so glad that we chose them, as they were exactly the right fit. They didn't hold back on sharing that connection and love that I so much love to photograph.
Leslie looked absolutely amazing in her maternity photos. From my maternity wardrobe, she chose a wine-red, long sleeved maternity dress. The style and color of the dress were prefect for her and the surrounding Fall scenery. Jesse helped us with a little train toss magic for her more "fancy" maternity photos. I love being able to offer a mix of both natural interaction and more posed, styled portraits, and dad's are usually eager to help.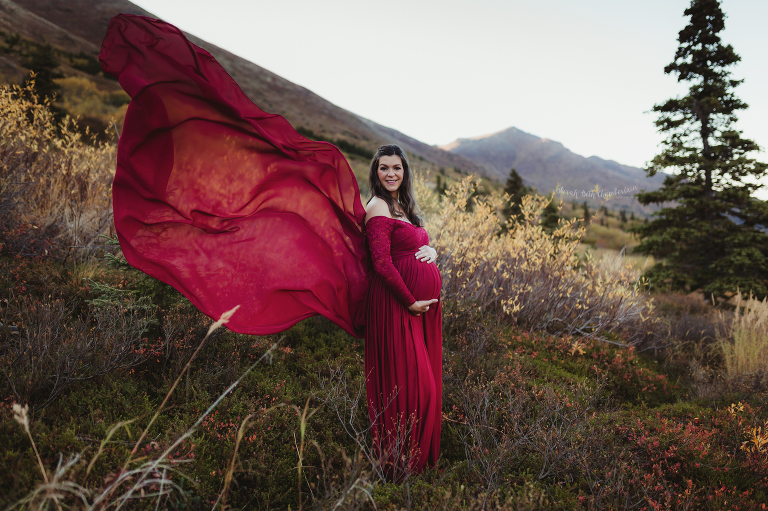 Each family that I work with for maternity photos or family portraits brings their own energy and mood to their session. I knew that I could count on Dominic to bring the energy and laughter that I'd hoped for this day. Our session was pretty fast-paced and fun, changing positions and poses to keep him moving. We shared a lot of giggles capturing these photos. One thing is for certain, he is going to have a lot of fun with his new bother or sister. Their surprise baby will arrive sometime this month. I can't wait to see the Mead family again for their newborn session.
The maternity gown pictured here is by Sew Trendy Accessories.
Sarah Beth Chamberlain
Maternity Photographer | Anchorage, Alaska
SaveSave