I have been a family photographer for the Parkers since their youngest child's newborn session in 2014. For the last few years a newborn portrait of Gabriel hung in the hospital where his daddy worked, but this summer I updated that gallery and paid Matt a visit at his office. After gifting them that newborn wall art, Matt informed me that they had yet to capture outdoor family portraits in Alaska, and we began planning for a Fall family session.
This fall has been a family photographer's dream. While typically short, I feel like we got at least an extra week of Autumn colors. The Parker family enjoyed peak colors for their family photos. I'd watched this little spot change for several weeks as I took maternity photos for a few other families here, and had a feeling it was going to be an amazing evening. We were not disappointed. Beautiful, soft light met rich, Autumn shades. It was truly gorgeous out there, and a wonderful evening for family photos.
The Parker kids have grown up so much since I last saw them. Matt shared quite a few sentiments of being a protective father, and I can see why. His baby girls have grown up to be stunning little ladies. They were so eager to be silly with me and have their photos taken. Little Gabriel was feeling shy this evening, but shared just enough sleepy smiles to make his momma swoon. Watching this sweet family grow brings me so much joy as a family photographer. We had such a fun evening taking in the scenery and playing in the mountains. This scenery and the families I've worked with in Alaska will be sorely missed when we are sent on our new adventures this Spring.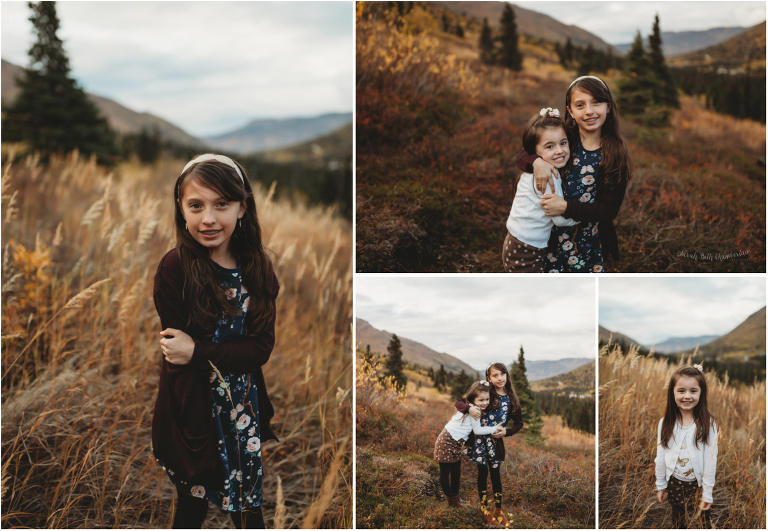 Sarah Beth Chamberlain
Family Photographer | Henderson, Nevada
Las Vegas Photographer