Xyrelle was awake for a fair amount of her newborn session, looking back at me with wide eyes and sweet smiles. She was completely relaxed while curious about her surroundings. After wrapping and posing for a while, though, she dozed off and let us get to our bean bag poses.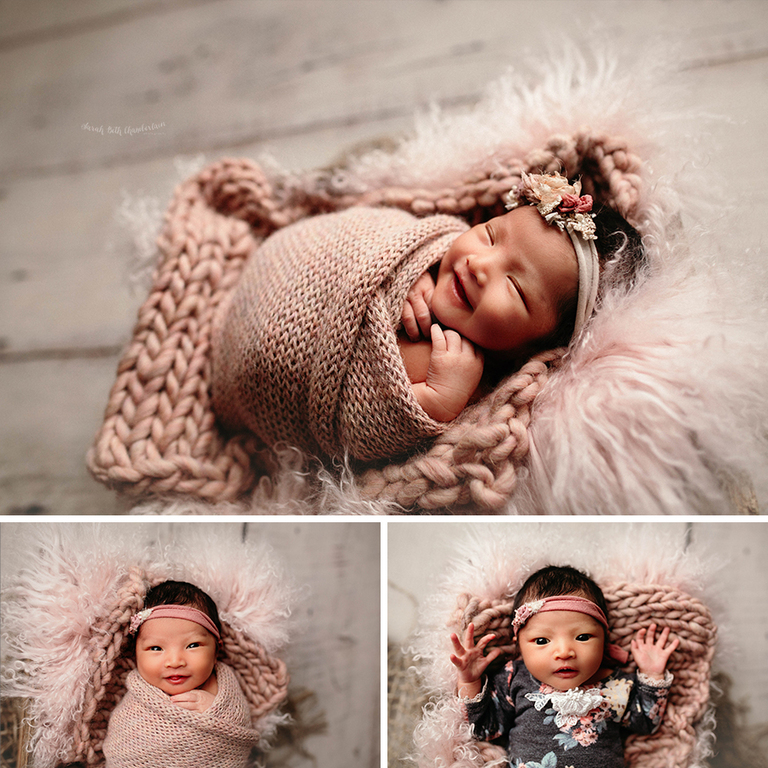 Marielle, Xyrelle's mom, requested pastels and neutrals for her baby girl's newborn session. This mauvey-pink and minty-green went so well together, and I am always a fan of neutral prop set ups. These images will look so lovely in their nursery and home.
It was clear that Marielle and Johnneil were completely in love with their little girl. Who can blamed them? Isn't she the most gorgeous baby? It's always such a delight to witness the joys of new parents in my studio.
I am currently booking Spring & Summer 2021 newborn due dates, family, baby, and maternity photo sessions. Booking your newborn session early gives us time to plan for a beautifully artistic newborn gallery that you can be proud of. 
Contact me to book your session today! Join our MAILING LIST to stay up to date on opportunities, special events, and availability. 
Are you looking for a Las Vegas Newborn Photographer? There are so many styles and experiences to be found, but finding a photographer who is right for you and will take great care of you through the process can be a challenge. I have put together a guide to help you select a great newborn photographer. If you ask these questions, you're sure to find a safe, artistic, and reliable newborn photographer for this important time in your life. Remember, you only have one chance to capture amazing newborn portraits.
LAS VEGAS NEWBORN PHOTOGRAPHER | BIRTH PHOTOGRAPHER | VIDEOGRAPHER | BIRTH FILM | MATERNITY PHOTOGRAPHER | FAMILY PHOTOGRAPHER | PORTRAIT STUDIO | BABY PHOTOGRAPHER | PREGNANCY PHOTOS | BIRTH VIDEOGRAPHER | NEWBORN PORTRAITS | BABY PHOTOS | SOUTHERN NEVADA FAMILY PHOTOGRAPHER
---