As a birth photographer and videographer, I am blessed to witness some of the most tender moments along with the incredible power of mothers in labor. While doing all that hard work, it's hard for moms to savor the beauty and sentiments of it all, but I see it. Every birth I've photographed has been vastly different from the others, but each mother leaves me wowed. Moms, you deserve to have this memory for always. Let me immortalize those moments, and record them for you to relive as your child grows.
When you hire me to be your birth photographer or videographer, you are gaining a labor team member. We will meet well in advance of your due date to go over your birth plan and get to know each other. It is so important to have a birth photographer that you are comfortable with and trust to be a positive member of your birth team. I will be on call from your 38th week of pregnancy through the 42nd. When the big day comes, I have my clients give me a heads up early on and then call me in when they are approaching active labor. I'll be right there with you through delivery and in the hour that follows.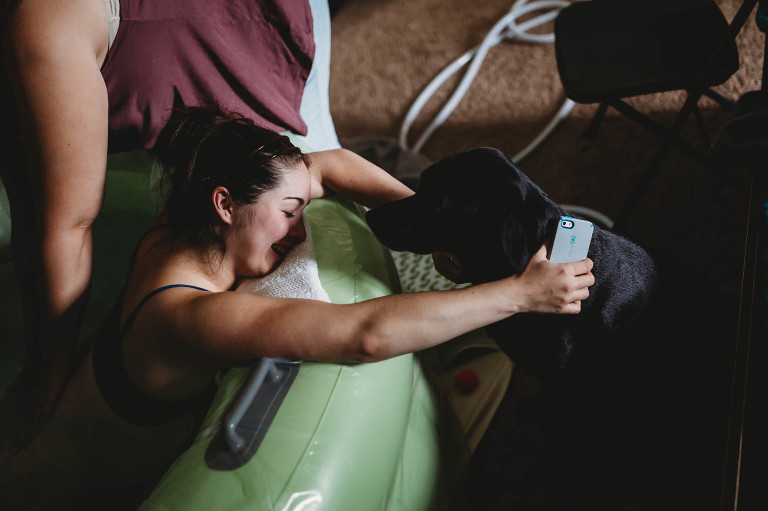 My goal in photographing or filming your labor and the birth of your little one, is to capture all of the little details of this day. Siblings playing, doggie doulas offering support, labor coaches loving on mom, and of course MOM. All of these little pieces make the memory. We will discuss your hopes and dreams for your birth photography at your consultation, so that all of the most important memories are recorded. I do ask my birth clients to choose a preference between birth videography or birth photography. I am able to capture a number of still photographs in the slower moments of labor when I'm recording a film, but I do like to go into a birth story with your priority in mind. The important moments happen in a blink, and can only be captured by one means.
Birth Videography & Films
Nothing tells the story of your baby's birth like slow, tender video footage, artistically edited to a sweet melody. So many clients come to me just wanting still images of their baby's arrival, and can't quite visualize the value in a film like this. My friend Christina in the birth story film above asked me to photograph Sophia's birth, but I had spare moments to record video clips during her labor. The result brought tears to all. "We had no idea how special this video would be," she and Andrew exclaimed. That's really about how it goes. Birth video premieres get a little weepy.
My birth story film package includes an in-person consultation, four weeks on call time surrounding your due date, videographer coverage of active labor through one hour after baby's birth, and a beautifully edited birth story film.
Birth Photography
Still photography is also an option for documenting your baby's birthday. With still photography, all of the emotion and intimacy of your baby's birth will be frozen in time with photographs. My birth photography package includes an in-person consultation, four weeks on call time surrounding your due date, photographer coverage of active labor through one hour after baby's birth, and 50 or more images with print release.
If you are interested in booking a birth story session with me, please contact me as early as you can. Early second trimester contact is recommended so that we've got plenty of time to chat.
Save
Save
SaveSave
SaveSave