Babies are cute and icing-covered, messy babies are even cuter when you book a cake smash session with me. Cake smashes are a long-standing tradition for first birthday parties, but have recently become an occasion to photograph professionally. You have probably already started planning your baby's first birthday party with cute themes, toddler games, and a spread of snacks or food. When we photograph your baby's first birthday at the studio, we'll use a theme within our own rustic style and baby-focused mission. By keeping the colors and themes within this style, we can be sure that the finished results will look beautiful in your home.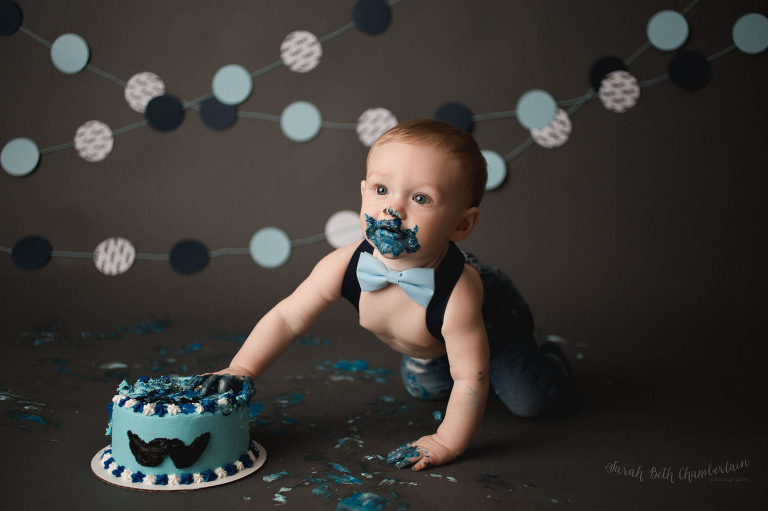 Every cake smash that I photograph comes with a small smash cake from a favorite local baker. You will not be disappointed with the delicious flavor! You can choose from chocolate, strawberry, or vanilla cake. I budget for a simple smash cake, but if there is something more custom that you desire, we can upgrade the cake design to meet your hopes and dreams.
Your cake smash session includes both family and baby poses. We'll update your family portraits, photograph baby individually, and then set up for baby to enjoy some cake. Quite often, parents have their baby wear one outfit for family and individual photos, and then dress baby in a different outfit for the cake smash. I do have a small collection of neutral outfits available, or you can bring your own favorite baby wardrobe. I will be available prior to your session, to discuss parent and baby outfit coordination, and support you in planning for this occasion. All of this is to ensure that you love the outcome of these celebration portraits.
SaveSave
SaveSave
SaveSave