How to Choose a Newborn Photographer
First of all, congratulations! You are expecting. Becoming a parent is one of the most exciting milestones in your life. Or, if this is not your first child, you are in the midst of growing your family. Children are only newborns for a matter of days, so it is important to plan in advance and have a qualified professional booked before your baby's arrival. So how do you know when you've found the right photographer? How do you go about finding the perfect Northeast Mississippi newborn photographer? Here are some important topics to consider:
Are they a match for your style?
This seems like a such a simple question but it's an important one that is often forgotten in the excitement of having a baby. Think about the decor style of your home, or décor that you've got in mind for your future, ideal home. Can you envision the photographer's artwork, frames, or products hanging on your walls? Does the photographer create artful pieces that would suit your home décor style? As parents it's easy to get excited with volumes of newborn session ideas on Pinterest. You may be going wild saving these ideas for your newborn session, but take a moment to decide what you truly love about newborn photography. What colors do you see in the work that you most admire? Is it the poses that you love, or is it the exquisite focus on baby's details? Every parent has different preferences and its important to decide if yours match the photographer that you want to hire.
My newborn artwork contains earthy tones paired with complimentary color. I create galleries full of natural elements, and showcase them with rustic frames, wood prints, and albums. Sessions carry on if baby is sleeping in a dreamlike pose, or gazing at me with wide eyes and lashes. While my training allows me to pose your baby safely and artistically, my true inspiration comes from each individual child. Their skin, hair, features, and expressions guide my process, and the result is baby-centered newborn photography with a rich, earthy color pallet.
What products do they offer?  
When investing in fine art newborn photography, it is important that your investment be presented in products that you aesthetically love, are going to last a lifetime, and are going be viewed and enjoyed in your home readily. What is the sense in having these works of art created, if they are going to live in a drawer or on a drive? Consumer labs that you might use for everyday printing do not deliver consistent color accuracy or archival quality, but many professional photographers offer products that preserve as well as showcase their work. Each photographer has their own product line that coordinates with their photographic style.
My albums, for example, are customizable to coordinate with the color pallet used in each session and printed on high quality, thick pages. They are bound with luxurious leather, linen, or velvet covers, and finished with a protective coating on each page. The framing that I use for wall art selections is created with genuine reclaimed-wood and hand crafted to display a rustic newborn gallery in your home. I can be certain that my photographs will be displayed for this generation and the next generation, because they are offered in heirloom products. While 8×10 digital files come with every print purchase, my main focus when my clients come to the studio to view their portraits is to assist with wall art and album design.
Who's going to take care of mom?
Imagine that you've just had a baby. Your body has done some amazing work to create and give birth to that miracle, and you are now up nursing and staring in awe at your newborn. You're also exhausted. The photographer that you are about to capture newborn portraits with may offer one of many possible experiences.
When searching for a newborn photographer, look for an individual who is going to make creating these portraits an enjoyable experience. Look for a kind professional who is going to take good care of you throughout the process.
When I work with parents, I try to be as helpful as possible. During the second trimester, I am available to either meet in person or call to chat about the session. I leave that choice up to the parents, because I know how busy the preparations can be. I listen to clients' hopes and dreams for newborn art, and share in their excitement over welcoming a new baby. All the details are worked out and introductions are made before the baby arrives. On session day, parents relax in my studio. They are free to enjoy a cup of coffee, have a snack, or even take a nap. Many choose the nap! It is important to me that my clients feel welcomed and comfortable long before the arrival of their child. I want parents to enjoy their child's first picture day and take home a memory of having these heirlooms created.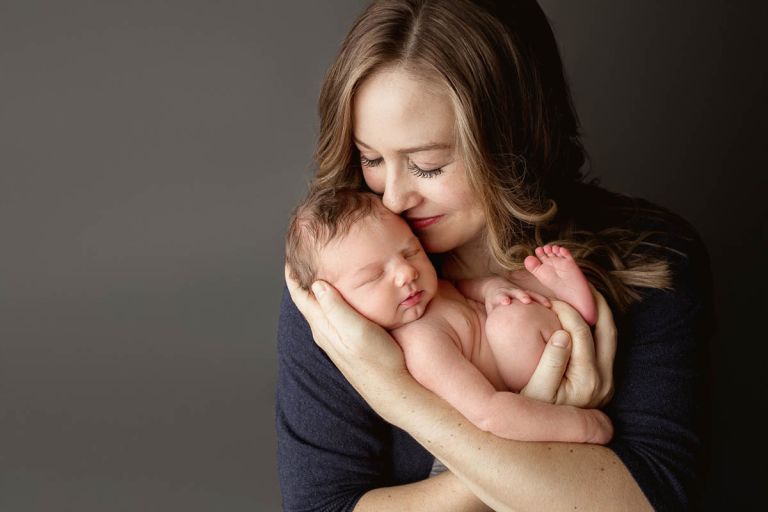 Are they a trained newborn specialist?
Responsible newborn photographers get the training that they need in order to safely and artistically pose babies. Has the photographer that you're considering attended a workshop for this specific training? If you don't know, ask! This person is going to be handling your baby for 2-4 hours, depending on their timeframe, and you want to be certain that they can SAFELY handle your child. I really can't stress that enough! Babies are tiny, fragile miracles that need gentle, trained hands when it comes to newborn pictures. It may seem like no big deal to put a newborn into the poses that we do. They just sleep, right? Wrong. It takes a trained professional, who has poured her passion into learning this craft to make those sleepy poses look easy.
I have completed both intensive, hands-on workshops and online training sessions to learn safety and artistry for posing newborns. This is something that I will continuously invest in throughout my career, because safety is my number one concern in working with your child. I also want to be able to continuously deliver beautiful results. Learning my craft from some of the top newborn photography mentors in the world, is really important to me. In order to be an expert for my clients, I have to learn from the experts in the industry.
Are they a real business?
Of course they're real, they have a website don't they?  It can be hard to tell sometimes if a newborn photographer is an actual established business with safe business practices. Businesses must obtain the proper licenses, permits, insurance, etc. This is not just to cover their own investment, but to protect the clients that they truly care about. Check with your state or city commerce website for licensing and ASK photographers if they have insurance.
It's something that is never asked of me, but as a business owner it's my responsibility. I have to ensure that I am operating legally and that my clients are protected. I love my clients.
Have you met?
Lastly, go meet the photographer in person. You've seen her website, browsed her Instagram, and you really love her work. You've found a Northeast Mississippi newborn photographer that you like, so go meet her! Find out if she is passionate about newborn photography. Make sure that you are comfortable with this person holding and posing your baby. Be certain that her work space is welcoming and safe. The last thing you want to do is find yourself in an uncomfortable situation on your session day. You'll feel much more relaxed (and so will baby) if you've had the opportunity to get to know your photographer.
If you want to meet with me, I welcome the opportunity to talk with you. Newborn photography is something I am passionate about, but so is service.  I truly enjoy working with families as they are soaking in this fleeting stage of their child's life. It's a mesmerizing and endearing moment to share with a family. If you'd like to come say hi, please get in touch with me through my contact page so that we can set up a time to meet.
Sarah Beth Chamberlain | Newborn, Maternity, Baby, & Family
Northeast Mississippi Newborn Photographer
SaveSave
SaveSave
SaveSave
SaveSaveSaveSave
SaveSave