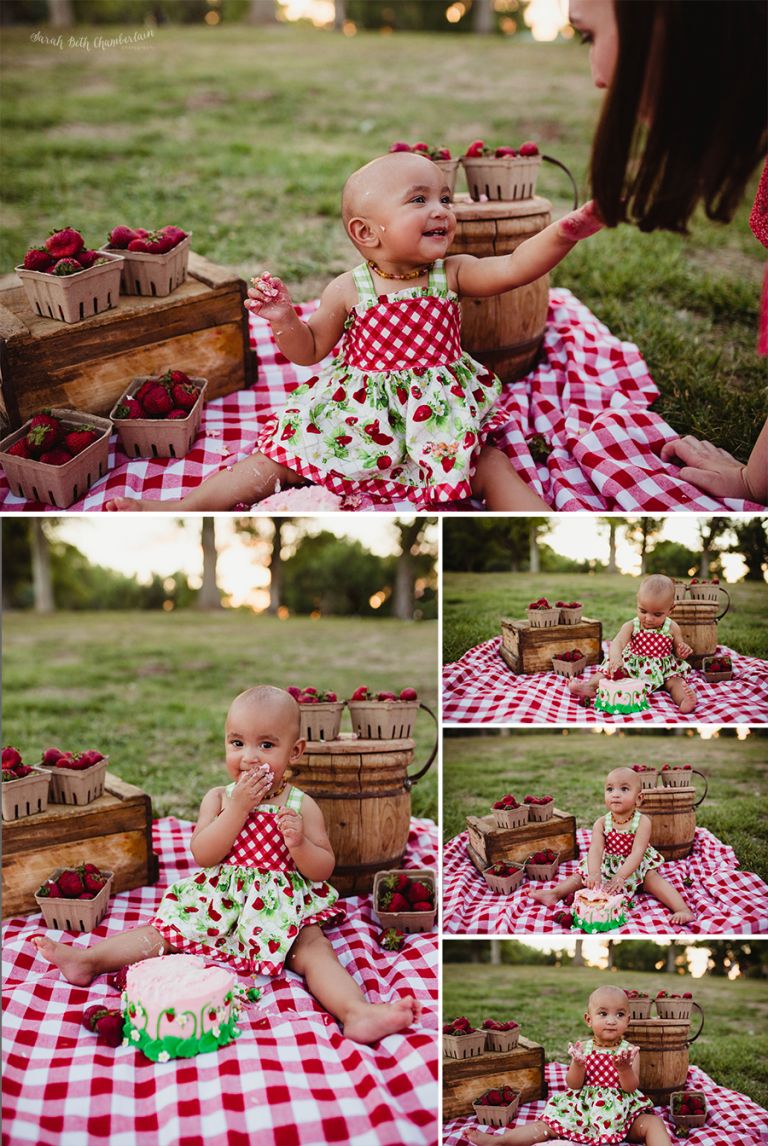 I was so thrilled when Nora's mom chose an outdoor cake smash for her baby's first birthday! She had the strawberry shortcake theme picked out for quite some time, so a glowy, sunset shoot outdoors brought the perfect golden hour warmth to this summery theme. Nora is one of my grow-with-me-babies, and I had been taking her pictures since she was in her mother's belly. She wasn't sure what to think of the cake at first, but eventually she warmed up and dug in.
Nora is a nursing baby, so she needed a milk break after cake. Heidi asked to have a few photos captured of their special bond. As a nursing momma, I completely understand. I will always capture these moments for my clients, because this stage only lasts so long.
One of the best reasons to do an outdoor cake smash instead of a studio portrait session, is that it's super simple to include family portraits. If you're taking the time to have professional portraits created, why not update your family photos as well? By the point Nora's whole family was pretty comfortable with me, since we'd gotten together a few times in her first year. The giggles and family connection were awesome, and I think these are my favorite pictures of their family. So warm, and so sweet.
I am currently booking Spring & Summer 2022 newborn due dates, family, baby, and maternity photo sessions. Booking your newborn session early gives us time to plan for a beautifully artistic newborn gallery that you can be proud of. 
Contact me to book your session today! 
Are you looking for a Northeastern Mississippi Newborn Photographer? There are so many styles and experiences to be found, but finding a photographer who is right for you and will take great care of you through the process can be a challenge. I have put together a guide to help you select a great newborn photographer. If you ask these questions, you're sure to find a safe, artistic, and reliable newborn photographer for this important time in your life. Remember, you only have one chance to capture amazing newborn portraits.
Mississippi Newborn Photographer | Family Photographer | Maternity Photographer | Baby Photographer | Cake Smash Photographer | Family Videography | Filmmaker | Custom Framing | Farmhouse Frames | Wood Prints | Professional Prints | Family Heirlooms